"If you think you are so strong, then FIGHT ME!"
— Ezekiel
Ezekiel is a character and supporting protagonist who first appeared in Time Trouble. He is controlled by Alika87, then, after he moved accounts, ScratchyTheCat
Appearance
Ezekiel has a rectangular head. He wears a red shirt, red cape, and the arm of his shirt is yellow. He only has one hand.
Abilities
Ezekiel is an intelligent Eknan. He can shoot fireballs, spit lava, and throw spikes. He can also run very fast, but not as fast as Jelo.
Personality
Ezekiel is kind, caring, confident, serious, loyal (to his friends) , and a little bossy.
Trivia
He has a strange autotuned voice.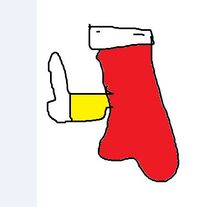 Community content is available under
CC-BY-SA
unless otherwise noted.